class="lazy" data-

Our package prices include delivery/installation/collection/de-rigging within a 40mile radius of CV364GF
The Intimate Retreat
Bedouin Tent Package for 20 People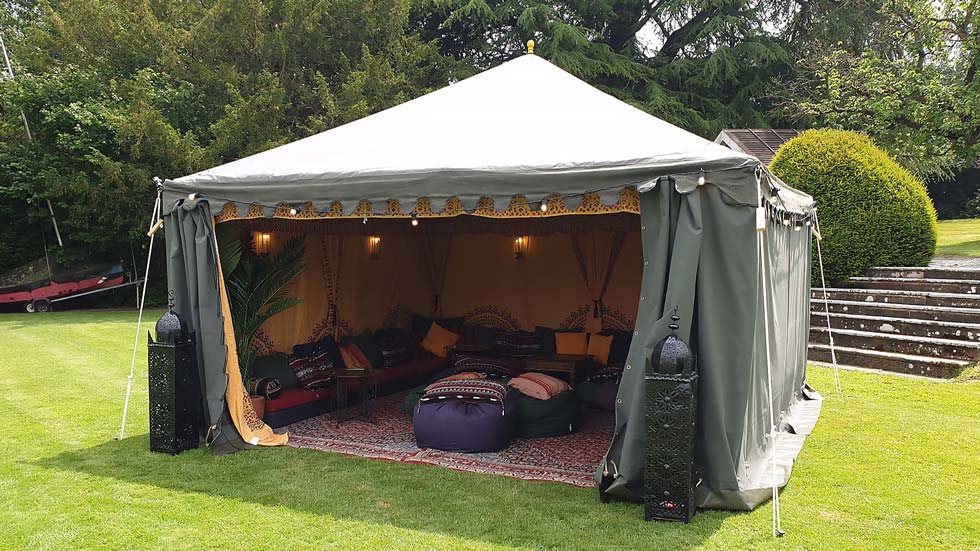 For a 1-3 day hire
From
£1,100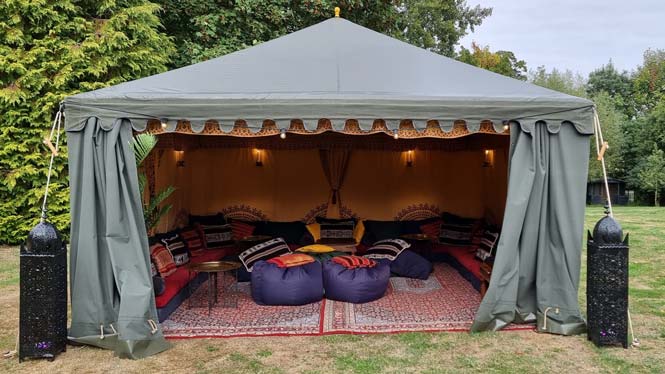 4.5m x 4.5m, Outdoor Lighting Package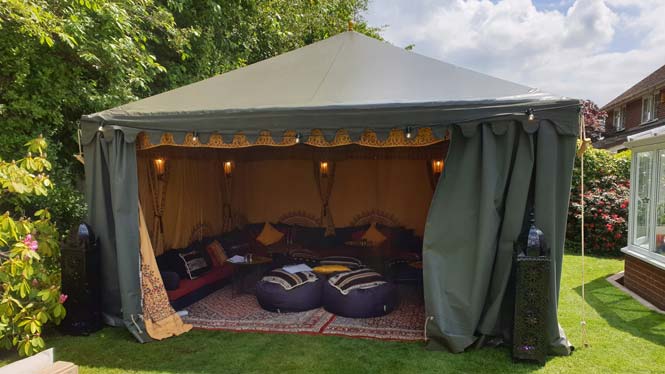 4.5m x 4.5m Bedouin Package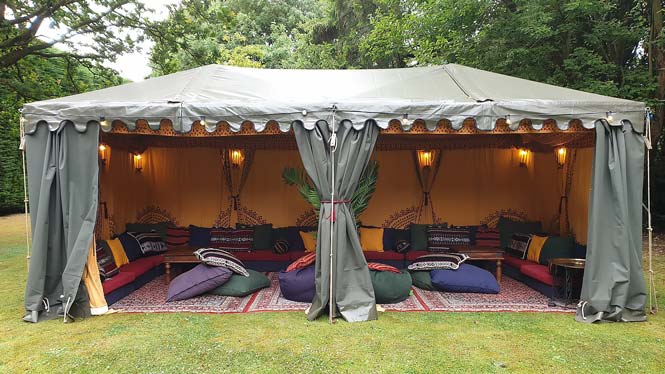 3x6m, Saffron Lining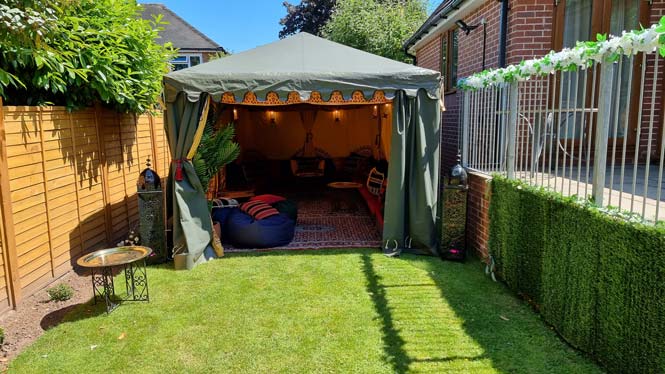 3x6m, Saffron Lining
Package Includes
Bedouin Tent

- 4.5m x 4.5m Party tent with olive green PVC roof and olive-green canvas walls
Or
- 3m x 6m Party tent with olive green PVC roof and olive-green canvas walls

Linings

- Hand Block Printed Saffron Lining: This option features a vibrant and visually appealing saffron-coloured lining. The intricate hand block printing adds an elegant and cultural touch, enhancing the overall atmosphere of the space
Or
- Jasmine Lining: The Jasmine lining offers a cream-coloured base adorned with elegant gold Indian prints. This choice exudes sophistication and blends seamlessly with various colour palettes, creating a refined and luxurious feel.

Interior Lighting

- Lighting by one brass overhead pendant light in our 4.5m x 4.5m tent or two brass overhead pendant lights in our 3m x 6m and up to 6 brass wall lanterns, all with 40-watt equivalent bulbs on a dimmer switch

Persian Carpets

- Burgundy or Cream style Persian rugs laid on a polyethylene membrane – full coverage

Chill-Out Seating

- For approximately 20 people comprising low level Ottoman seating along with floor cushions and beanbags in various sizes and colours, scatter cushions and occasional tray tables in polished brass – full coverage
- One Palm trees – (artificial, approx. 5-6ft tall) in terracotta coloured pots

Delivery

- Includes delivery/installation/de-rig/collection charge – within a 40-mile radius of CV36 4GF
- (Mileage over 40 miles from our base is charged at £1 per mile driven)
Add On Additional Items
Exterior lighting to make your hire stand out even further - £92

Includes
- Two Large iron candle lanterns 130cm tall lit with 15-watt RGB uplighters to give a welcome glow to the entrance of your tent, in a colour of your choice
- 10m length of festoon lighting to elegantly light two exterior sides of your tent

To place our Bedouin tents on hard standing or soft ground - £160

Includes
- Interlocking plastic hard flooring – to prevent water ingress and provide suitable foundation to lay carpets
- Two Mint Green 150 litre water weights – to anchor the tent down
Customize Your Event with Extras
At Attentive Events, we understand that every event is unique, and you may have specific requirements to make it truly exceptional. That's why we offer a range of optional extras, including dancefloors, bar units, formal tables, and chairs, to enhance your event experience.
However, it's essential to note that adding these items can affect the overall capacity of our tents. While our tents are incredibly versatile, accommodating various setups, the introduction of larger elements may require a larger tent structure to maintain guest comfort and spaciousness.
Our experienced team is here to guide you through the process and help you determine the best combination of elements for your event. Whether you're planning an intimate gathering or a grand celebration, we'll work closely with you to create the perfect ambiance while ensuring your guests have plenty of room to enjoy themselves. Let's collaborate to bring your vision to life and make your event truly unforgettable.